Parking
Neither students nor faculty are allowed to park in the parking garage.
From the very first day on campus, students and faculty must park in the employee parking lot to the South or Southwest of the campus. Refer to the map for more parking information.
On the first day you visit the campus it is required that you stop by the Security Office located on the Lower Level.
Please know your vehicle make, model and tag number of your car.
You will be asked to fill out an information card and Security will issue you a parking decal.
Place this sticker on the front windshield in the inside lower left hand driver's side.
It is recommended to walk to and from the parking lot in pairs or groups when possible.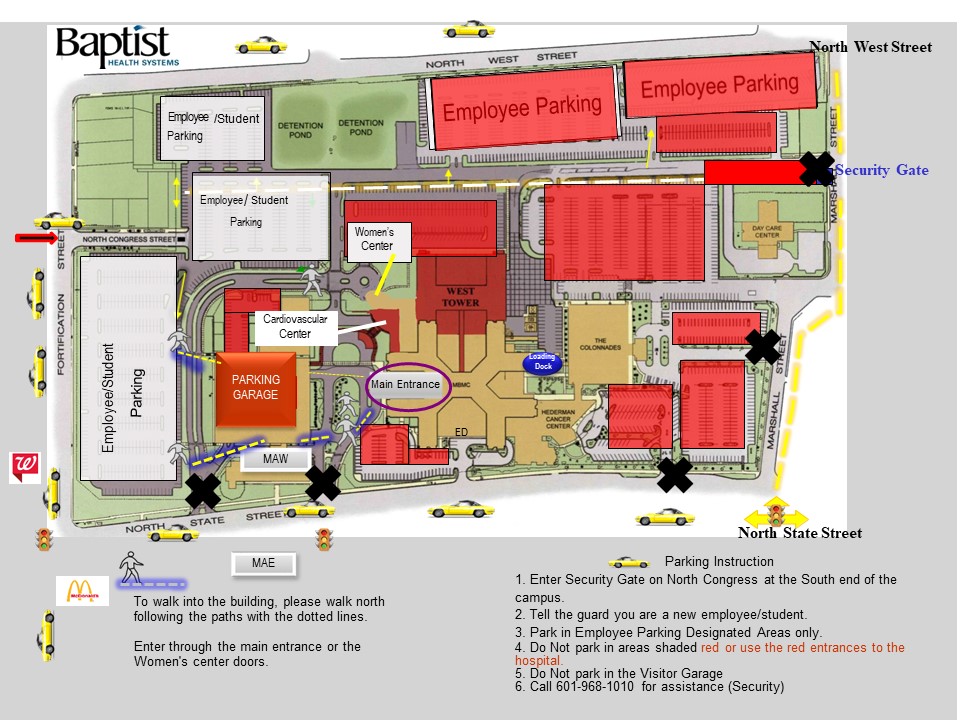 Download the Mississippi Baptist Medical Center Parking map for students
Security and Safety
Your safety is of the utmost importance to us.
Our campus is covered with hundreds of cameras and a professionally trained, full-time security staff 24/7.
However, we cannot provide a locker for you to secure your valuables while in the building. Do not bring any valuables to campus except for the cash to buy a meal. Before leaving home, place your purse, portable electronic items or backpack in the trunk of your car.
Feel free to call Security for any questions or safety concerns at 601-968-1010.
Food Service
Cafe' 1225
Located on the first floor just off the main hospital lobby.
Daily cafeteria hours are 6:15 a.m. to 7:00 p.m.
Chick-fil-A is also open inside Cafe' 1225 with the following hours: Monday-Friday, 6:30 a.m. to 7:00 p.m.
Atrium Cafe
Located in the Atrium and open seven days a week.
Monday - Friday, 11 a.m. to 6 p.m. and 7:00 p.m. to 2:00 a.m. (Closed 6:00 p.m. to 7:00 p.m.)
Saturday-Sunday: 7:00 p.m. to 2:00 a.m. (Closed 9 to 9:30 p.m.)
Java Junction Coffee Shop
Located on the first floor in the main hospital lobby.
Monday- Friday: 6:00 a.m. to 8:30 p.m.
Saturday-Sunday: 7:00 a.m. to 6:00 p.m.
Department and Unit Locations
Main Hospital

Tower

Lower Level

Central Supply
Education Resource Center
Food and Nutrition
Inpatient Pharmacy
Security
Walkway to the Cancer Center, Colonnades

Baptist for Women entrance
Baptist for Women Conference Center
Women's Surgical Center
Women's Breast Center

First Floor

State Street Entrance
Emergency room
Cafeteria
Coffee Shop
ATM machines in lobby
Gift Shop
Hospital Administration
Monitor Station
Pastoral Care Department
Critical Care Waiting Room (under construction)
Chapel
Nursing Central Intake

Atrium
Outpatient Coronary Unit (OCU)
1 North- Med-Surg inpatient unit

Second Floor

Surgery (OR)
Post-anesthesia Care Unit (PACU)
Laboratory
Endoscopy/GI Lab
Cath Lab
Surgery Waiting Room
Same-Day surgery
Radiology Department

Cardiovascular Recovery Unit (CVR)
Surgical Intensive Care Unit (SICU)
Cardiovascular Diagnostics (inpatient and outpatient)

Third Floor

3B – Medical
Adult Intensive Care (AICU)
ICU East
Senior Behavioral Health (SBH)

3 North – Telemetry, surgery
3 South – Cardiac

Fourth Floor

4A – Neuro/Spine
4B – Peds
Labor and Delivery (L&D)
4D – Stroke/Neuro

Well-baby nursery
NICU
Waiting Room for families of women in labor
Mother Baby Unit - 4 South

Fifth Floor

5C – Stepdown
5D – Oncology

5 North – Surgery
5 South – Urology

Sixth Floor

6A – Medical
6B – Medical
6C – Orthopedics
6D – Orthopedics