Cardiovascular Update 2023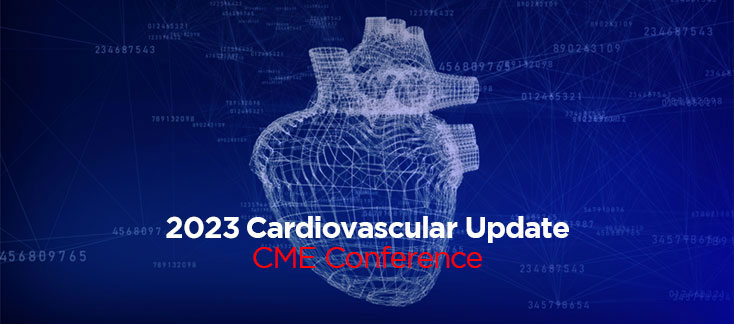 Baptist Heart invites you to join us for the 2023 Cardiovascular Update at the The Refuge Hotel and Conference Center at the Sheraton Hotel in Flowood, MS on Friday, August 25, and Saturday, August 26.
The purpose of this event is to provide an educational forum to update internal medicine physicians, primary care physicians, family medicine physicians, emergency department physicians and nurse practitioners on the latest guidelines, technology, and procedures regarding diagnosis and treatment of a variety of cardiovascular disease topics. With educational events such as this, we have had an impact on the statistics regarding heart disease in Mississippi by improving mortality and morbidity. In partnership with area physicians and health care providers, we can enhance both the quality of care and the quality of life of our patients who suffer from cardiovascular disease.
The event will cost $99 for physicians and nurse practitioners.
Date
Friday, August 25, 2023
Saturday, August 26, 2023
Location
Sheraton Flowood
The Refuge Hotel & Conference Center
2200 Refuge Blvd.
Flowood, MS 39232
A block of rooms has been reserved until July 31, 2023 and are available on a first come basis.
Conference Registration
To register online, you must have a credit card and valid email address. Please click the link below to register.

Or, you may contact Tammy Thomley at tammy.thomley@bmhcc.org for other registration options.
Registration Deadline, Cancellation and Refunds
Registration deadline is Monday, July 31, 2023. Registrations received after that date will be placed on a waiting list. Cancellations must be made by Monday, July 31, 2023, in order to receive a refund for the registration.

No refunds after Monday, July 31, 2023.
More Information
For more information or to request auxiliary aids, special services, or special meals, contact Tammy Thomley at 601-968-4168, or tammy.thomley@bmhcc.org.
Lodging Information
For your convenience, below are hotels in the Jackson metro area.
Agenda
Friday, August 25, 2023
Time

Topic

Presenter
5:30 p.m. – 6:00 p.m.
Registration
6:00 p.m. – 8:00 p.m.
Atrial Fibrillation Case Studies
Dr. Adam Berman


Saturday, August 26, 2023

Time

Topic

Presenter
7:15 a.m. – 8:00 a.m.
Breakfast and Registration

8:00 a.m. – 8:50 a.m.

Adolescent Sport: To Play or Not To Play



Dr. David Braden

8:50 a.m. – 9:35 a.m.

Heart Failure Clinic: 2023 Update

Amy Wall, FNP-BC and Katie Brewer, FNP-C

9:35 a.m. - 9:55 a.m.

Break
9:55 a.m. – 10:45 a.m.

Hypertension: Secrets to Success

Dr. Cameron Guild

10:45 a.m. – 11:35 a.m.

Topics in Vascular Surgery

Dr. David Johnson

11:35 a.m. – 12:25 p.m.

Advanced Procedures for Pulmonary Embolus
Dr. Eric Holland and Dr. Maria Rappai

12:25 p.m. - 1:00 p.m.

Lunch
1:00 pm p.m. – 1:50 p.m.

Surgical and Percutaneous Management of Mitral Valve Disease

Dr. Ross Thurmond and Dr. William J. Harris, III

1:50 p.m. – 2:35 p.m.

Update on Primary Prevention of Atherosclerotic Disease

Dr. Daniel Kelly

2:35 p.m. - 2:55 p.m.

Stand Up Break
2:55 p.m. – 3:40 p.m.

Cardiovascular Updates

Dr. James L. Warnock, Jr.

3:40 p.m. - 4:00 p.m.

Questions, Answers and Evaluations

7 CME hours available.
ACCREDITATION STATEMENT
The Mississippi Baptist Medical Center is accredited by the Accreditation Council for Continuing Medical Education (ACCME) to provide continuing medical education for physicians.
CREDIT DESIGNATION STATEMENT
Mississippi Baptist Medical Center designates this live activity for a maximum of 10 AMA PRA Category 1 Credit(s)™. Physicians should only claim credit commensurate with the extent of their participation in the activity. Mississippi Baptist Medical Center complies with the legal requirement of the American Disabilities Act (ADA) and the rules and regulations thereof. If any participant is in need of accommodations, please call Hanna Bilbro at 601-968-1712 or Hanna.Bilbro@bmhcc.org.